Clam Chowder
(The Group, Not the Soup)
---
Clam Chowder is a folk music group that specializes in brilliant five-part harmonies on everything from sea chantys to traditional Russian folksongs, from early Steeleye Span to cowboy ballads, from comic to profound.
The group formed at the Maryland Renaissance Festival in 1977, and played at cons until 1988, when they mutually decided to go their separate ways. In recent times, fortunately, their separate ways have reunited (at least occasionally), and Clam Chowder can still be heard at various cons.
For more information, and to ask about availability of Clam Chowder tapes and CDs, contact:
Indigo Hound Audio Labs

2367 Bryansville Road

Delta, PA 17314
Discography
1979: The EP (7 inch extended play vinyl)

1980: Stewed (12 inch vinyl/cassette)

1981: Leftovers (cassette)

1982: For Here or To Go (12 inch vinyl/cassette)

1985: Special Order (cassette)

1989: Last Call (cassette)

1997: Salvaged (CD)
Clams
Bob Esty - Harp, electric bass, recorder, and whistle. Sings baritone/bass. Songwriter and arranger.

John Huff - Lead guitar, mandolin, chair, electric guitar, bass. Sings tenor.

Kathy Sobansky - Harp, percussion. Sings soprano.

Don Stallone - Concertina, recorder, 12-string. Sings tenor/baritone.

Sam Van Wyck - Guitar. Sings bass.

Carl Zwanzig - Sound. Bones, autoharp. Sings tenor.

Cliff Lauer - The newest Clam. Electric bass & eclectic.
Pictures
(from Bucconneer, 1997)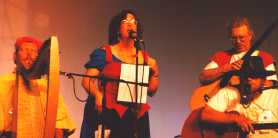 Bob Esty, Kathy Sobansky, Cliff Lauer, John Huff (seated)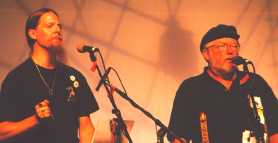 Carl Zwanzig, Sam Van Wyck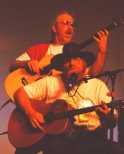 Cliff Lauer, John Huff (seated)
---