Civil Union

Thomas and Don were united in Civil Union in Burlington, Vermont on February 14, 12,001 H.E. (yes, it was Valentine's Day).
After seventeen years as a couple, and thirteen years living together, why travel all the way to Vermont to secure a legal status that would grant us no discernable benefits outside that state? First, we wanted to reward the state of Vermont for being the first (and, at the time, only) state to provide legal recognition to same-sex couples, by spending some money (including fees and taxes). Second, we wanted to make a political statement. And third, we wre delighted that at last we would have a way to introduce one another: "This is Thomas/Don, my legal-but-so-far-only-in-Vermont spouse."
We convinced our friends Lisa Barnett and Melissa Scott, who have been together for twenty-two years, to accompany us and make it a double ceremony.
The four of us set off from Portsmouth, New Hampshire too early in the morning. Vermont is a beautiful state; the drive to Burlington was one scenic vista after another. After we arrived and checked into the beautiful Sheraton Burnlington, we made our way to City Hall. There, with the assistance of the helpful people in the Clerk's Office, each couple filled out a form and were given a Civil Union License.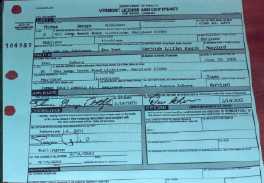 Then, back at the hotel, we changed clothes and met the other two in our party: Thomas' sister-in-law Nancy and nephew Michael. We were all surprised to find ourselves as jittery and nervous as straight couples are supposed to be right before their weddings: Lisa admitted to an attack of cold feet, and Don kept checking his pockets for license, camera, rings.
Through gently-falling snow, we reached the house of Bill Cleary, our Justice of the Peace. Bill, a defrocked Jesuit married to a defrocked Nun (also a Justice of the Peace), was wonderful. He put us at ease, then brought to the occasion a solemn sense of dignity. In the name of seniority, Lisa and Melissa went first; by the time they finished reading their vows and Bill pronounced them joined in Civil Union, there was not a dry eye in the house.
Then it was our turn.
We joined hands, and Bill guided us through the vows that Melissa had written.

Our nephew Michael was our Ringbearer.

We chose to use symbolic rings: Thomas used a Star Wars ring that said "May the Force be with You," and Don used a Legion of Super-Heroes Flight Ring.

For everyday rings, we decided on a pair of silver Orobouros rings made by jeweler Laurie Edison. Until they were done, we wore plain silver bands as placeholders.

Bill congratulated us.

ABOVE (left to right):
Melissa Scott, Lisa Barnett, Bill Cleary, Thomas G. Atkinson, Don Sakers

ABOVE:
The two happy couples.

LEFT:
Nancy Dick-Atkinson, Thomas, Don, and our nephew Michael T. Atkinson
After we met Bill's wife, Roddy, we returned to the Sheraton. Thomas and Don joined Michael in a post-union swim, then all six of us repaired to the hotel restaurant for a truly magnificent meal. The next day, we returned to Portsmouth to begin our lives as legal (in Vermont) couples.
The entire experience was lovely. The ceremony, while brief, was quite intense. And in the week since (as I write this), we have received nothing but congratulations and good wishes from friends, family, and coworkers.
We heartily recommend Vermont Civil Union to all same-sex couples who want to publicly acknowledge their commitment to one another. If you have questions, or would like to know how to get in touch with Bill and/or Roddy, please contact us.
---