Albanath & Eklaid
---
Location
Bearing from Terra
(relative to Core) (degrees):
Distance from Terra:
Other location data:
Core worlds
---
System
| | |
| --- | --- |
| Primary: | |
| Spectral Class: | G4 |
| Mass: | 1.11 Sol |
| Luminosity: | 1.02 Sol |
Planet

Name
Distance
(A.U.)
Revolution
(Terran days)
Revolution
(Terran years)
Type
Mass
(Terra=1)
Diameter
(Terra = 1)
Rotation
(hours)
Inclination
(degrees)
Moons
1
0.3
0.4
Rocky
0.02
tide-locked
2
0.5
0.57
Rocky
0.06
0.28 years
3
0.7
0.71
Rocky
0.04
32.4
4
Albanath
1.0
0.90
Habitable
0.92
1.03
32.3
5
Eklaid
2.0
1.43
Habitable
0.13
0.34
18.6
6
3.7
2.15
Jovian
328.2
11.4
7
7.1
3.32
Jovian
58.3
13.8
8
14.0
5.23
Jovian
162.8
10.6
---
Physical
Albanath
Eklaid
Total Irradiation
(Terra = 1):
1.11
0.278
Distance from Star
(A.U):
1.0
2.0
(million km):
Revolution
(Terran years):
0.90
1.43
(Terran days):
(Local years):
Diameter
(Terra = 1):
1.03
0.34
(km):
13,000
4,300
Mass
(Terra = 1):
0.92
0.13
Density
(g/cc):
(Terra = 1):
Surface Gravity
(Terra = 1):
1.15
0.89
Length of Day
(hours):
32.3
18.6
Orbital Inclination
(degrees):
Moons
Other
---
Biology
---
History/Society
| | | |
| --- | --- | --- |
| | Albanath | Eklaid |
| Founded: | Kreen year 28,521 | |
| Social Characteristics: | | |
| Population: | | |
Overview:
Albanath
Core world settled by refugees from Barentikater IV in the Kreen year 28,521.
The oldest and most influential chaio on Albanath, ban Tau chaio, lives along the River Shatmisp.
About 2600 CE, the Galactic Riders helped many inhabitants of Albanath move to a new world, Shay Nabath.
The colonization of Albanath introduced a new element into Barentikaterian architecture, a jarring note: the harsh, acute angle and solids based upon it. Albanathian architecture to this day retains that element of shock, that jarring quality in an otherwise-smooth line. Otherwise, Albanath resembles a rather moderate Barentikater IV.
---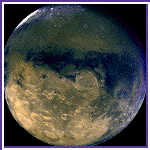 Eklaid
Eklaid is, all else considered, a military base. Its one settlement is a low valley with a breathable atmosphere, and is little more than a spaceport, a plantation of food crops, and herds of food animals. The work of building the units of the fleet is carried on by automata in other areas of the planet.
---

copyright © 2003, Don Sakers
All rights reserved