Marc Hoister
(born as Martin Luther King Hajari)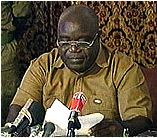 Title(s): Waziri
Nickname(s):

---
Physical
Skin: Dark brown
Hair: Brown
Eyes: Brown
Height: 170 cm
Weight: 280 pounds
Colors:
Other:
Large, dark, and imposing. The very picture of the classical Central African chief.

---
Biographical:
Birthdate: 1991 CE
Birthplace: Chicago (south side)
Date of Death: 2025
Place of Death: Kampala, Uganda, Umoja
Parents:
Sibling(s):
Children: Damien Nshogoza
Other Family: Oradell Maris, spouse
Associated with: The Nexus
Biographical Outline:
1991: Born in south-side Chicago as Martin Luther King Hajari.
2003: (12) First arrest (of many)
2007: (16) Sentenced to 5 years in Joliet.
2008: (17) Studies with Mustafah Faatih; reforms & renames himself Marc Hoister.
2011: (20) Joins Nexus as a founding member, with Mustafah Faatih as sponsor.
2012: (21) Released from prison, moves to Africa with Mustafah Faatih.
2013: (22) Meets Oradell Maris through Nexus.
2016: (24) Marries Oradell Maris.
2017: (26) Mustafah Faatih dies; Damien born.
2018: (27) Umoja formed.
2019: (28) Begins work with deported American blacks.
2020: (30) Named Cultural Minister for Umoja.
2025: (34) Replaced by "Jack." Amber Maris dies. Damien flees to Timbuktu, then America.

---
Personality
General: Strong, intelligent, likeable
Profession: Umoja Cultural Minister
Likes:
Dislikes:
Food, Drink:
Other:

---
Additional Information:
Appears in (story, book, etc): Dance For the Ivory Madonna
Other:

---
copyright © 2003, Don Sakers
All rights reserved